Discover more from And It Don't Stop
Robert Christgau's weekly newsletter. Music. Books. Politics. Old Age.
Over 11,000 subscribers
Endless Boogie
Charles Shaar Murray: Boogie Man: The Adventures of John Lee Hooker in the American Twentieth Century (2000, 505 pp.)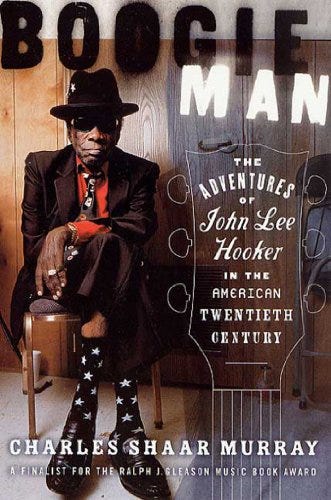 Among other very good things, Charles Shaar Murray's Boogie Man is the rare biography fully equipped to combine firsthand reporting with historical perspective. It begins at a New Jersey concert Murray covered in August, 1991, the month John Lee Hooker turned 74. And though it bears a 2000 copyright, it ends with a four-page postscript entitled "Don't Look Back: John Lee Hooker, 1917-2001." So Murray not only enjoyed major access, hanging out occasionally with the Mississippi-born blues/r&b/rock legend for almost a decade, but took so long to write his masterpiece he had the opportunity to research everything Hooker had achieved, which included attracting 1500 concertgoers in Santa Rosa, California, on his last Saturday among the living. Thus a bio that opens as a magazine profile closes by quoting eulogies from the likes of Bonnie Raitt ("He had a cry in his voice that would just break your heart") and Keith Richards ("As much as it was a joy to perform with him, you would really have to become him to play along").
Boogie Man also goes back to the beginning. Hooker was born in 1917 or so in Clarksdale, the unofficial capital of the Mississippi Delta and the launching pad of Delta blues: Charley Patton, Howlin' Wolf, Pops Staples, Ike Turner, on and on. To these Murray adds Hooker's stepfather Will Moore, a never-recorded guitarist who taught his boy not only the boogie groove Hooker trademarked but a humanism that by counteracting his preacher father's puritan ways freed Hooker to flee north in 1933, never once to return. And in the same 30-odd pages Murray imagines a childhood for the illiterate, undersized stutterer who ended up hitting the r&b charts two years before Muddy Waters himself. Guralnick on Presley? Giddins on Crosby? Murray's book is in that league.
So why then am I reviewing it two decades after the fact? Especially given that I've been extolling Murray's Hendrix study Crosstown Traffic for decades? Because I didn't see Hooker meriting a 491-page biography, that's why. Here's Greil Marcus's measured take in Stranded, for instance: "Hooker has put out scores of albums in his thirty-year career. All I've heard are good, because all feature his crawling kingsnake guitar, his pounding foot, his stoic, doomy rage." And here's Robert Christgau himself on Hooker's star-studded 1989 "comeback" The Healer: "Pushing 130 now, Hook will still walk anybody into the studio for cash up front. Though the pickings have been getting leaner, here anybody includes Carlos Santana, George Thorogood, Bonnie Raitt, Robert Cray, Canned Heat, and Los Lobos, most of whom commit crimes against his ageless essence that tone up the product considerably. And for the purist market, the product ends with four solo stomps." That bagatelle Murray takes issue with, as he has every right to on page 447 of a book that understands Hooker far better than I ever will. But like Greil I was onto something: for all the star-time collaborations that enlivened his seventies, John Lee Hooker was the least flashy and pop-adept major modern bluesman ever. So although Murray's book came in the mail in 2001, for years it stood loudly in my biography shelves—BOOGIE MAN, the spine shouted, it's got a thickness to it—awaiting its chance to convert me. Which when I finally picked it up it did, both as a book and as a case for Hooker's greatness.
The biographical detail only begins with that evocatively depicted Mississippi childhood. Murray renders the black Detroit where Hooker resided for 30 years as a richly detailed place and scores meaningful interviews with several of the uncounted record men who gave Hooker liquor and a few bills to make records he never saw another dime from. Foremost among these is octogenarian Bernard Besman, who allows as how Hooker "wasn't my first artist, but he turned out to be the best"—and here an ellipsis indicates a pregnant pause—"so far." In 1948 Besman recorded "Boogie Chillen," just Hooker's half-spoken lyric, amplified acoustic guitar, and echoing foot-stomp, which spent 18 weeks on the Billboard r&b chart it topped early in 1949. When you know the story, "Boogie Chillen" emerges as a tribute to Will Moore: "I heard papa tell mama, to let that boy boogie-woogie, 'cause it's in him, and it got to come out." Murray also details Hooker's first marriage to a hard-partying woman he divorced yet ended up supporting in the Bay Area where he'd relocated to escape her, and is convincing on how decently he treated the many women he took to bed. The man who emerges is shy yet self-possessed, unschooled yet complex and thoughtful, quite stubborn about what he wants and doesn't want—one of the more attractive human beings you'll encounter in the rock biosphere. As Pete Townshend once put it: "The voice from R&B that I remember first being disturbed by was Howlin' Wolf, but JLH's is less that of a macho monster, more of a dark, frail masculine soul." Exactly.
And at the same time you'll encounter an exceptionally sharp U.K. music journalist with a special passion for the guitar. Its 481 pages divided into only 14 chapters, Boogie Man is not designed as an easy read, and since blues fans are seldom also big-think fans, several of Amazon's unpaid experts have been dismayed by the intellectual ambitions of a 27-page chapter called "The Real Folk Blues?" and the 41-page "Interlude—The Dark Room." But as someone who has read dozens of disquisitions on both the folk and the blues (although none that document these concepts' U.K. trajectories with such brio), I say Murray's ranks high among them from its dissection of the malleable conceit of the folk to its history of the guitar's evolution from ladies' parlor instrument to male ax to its cutting disdain for racism's endless store of fallacy and cruelty. And his four-page description of the barely sung live "The Dark Room," which I managed to locate on YouTube, excavates the subtleties of Hooker's shamanistic "primitivism" in some of the best writing of this eloquent book.
No surprise, then, that Hooker has risen in my personal blues pantheon. Sure I still prefer early Skip James and Robert Palmer's Elmore James best-of, among others. But on The Healer, just as a for instance, I can now hear how right it is that the star-stoked first half, most strikingly the Carlos Santana title song and Los Lobos's big-bandish "Sally Mae," wind down into a guitar-bass-drums "My Dream" that's less sung than sweetly murmured and the solo "No Substitute" finale, which fades into a whisper on the repeated theme "There ain't no substitute for love." "No Substitute" is some kind of masterpiece. I can't imagine anyone but John Lee Hooker getting away with it. And I also can't imagine feeling it the way it deserves if Charles Shaar Murray hadn't shown me the way.