Discover more from And It Don't Stop
Robert Christgau's weekly newsletter. Music. Books. Politics. Old Age.
Over 11,000 subscribers
A Great Live Rock Album
On Todd Snider's third (official) live album, "Return of the Storyteller"
I first went long on Todd Snider in a 2012 Barnes and Noble Review column that I regret not squeezing into Is It Still Good to Ya? So take this full-length appreciation of the superb two-disc Live! Return of the Storyteller as a do-over that took life as a misunderstanding—I thought Snider's management had asked for liner notes, turned out they wanted a publicity bio, I've never written one of those in my life and declined to break that record at this late date. Hence I consigned this fruit of three days labor to limbo until I realized that with my A review of Return of the Storyteller behind me it would make a solid post here. Coverage of this album has been disgracefully scant—despite the 85 his fans pitched in on at Amazon, there's been only one review from a music mag of any note: Steve Horowitz's savvy 8 in Pop Matters. As someone who never misses a chance to see Snider live I'm ready to bet that as consistently engaging as the talk on this 90-minute album is, he won't repeat himself much next time I catch a show—and that I'll guffaw even when he does. As will you if you avail yourself of the chance.
---
The myth of the great live rock album is an inflated thing. Sure they're out there, but which ones, exactly? The band candidates—Who, Allmans, Nirvana—carry with them all too subjective claims of virtuosity, intensity, inspiration, and just plain magic, with the approximately infinite catalogue of the Grateful Dead the quintessential motherlode. But with Todd Snider things don't work that way. Snider is nothing like vain or foolish enough to claim he's in a league with the Dead or Springsteen or James Brown, or even that he chooses to play in that league. Yet this is the third official live album in a surprisingly hefty catalogue that in addition includes the 2013 Record Store Day been-here-and-gone promo special Happy New Year Vol. 1. Moreover, some of his studio albums—in particular 2019's spare Cash Cabin Sessions, Vol. 3—are so astutely pieced together that though they register as spontaneous they don't count as live only because we can't hear anyone cheering Snider on.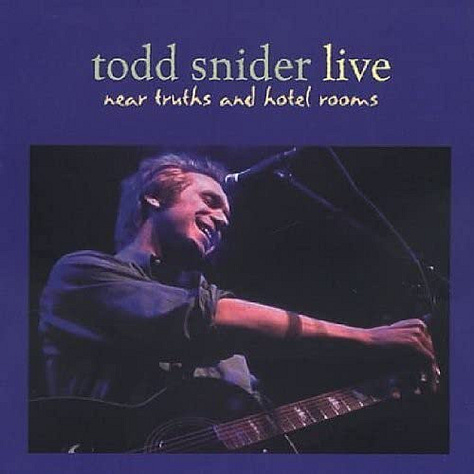 The official live ones are all different. In 2003, Todd Snider Live: Near Truths and Hotel Rooms functioned as both a greatest nonhits album that cherry-picked his MCA output for the John Prine-instigated Oh Boy label and as evidence of what a decade into his career was a cannily relaxed performance style he continues to hone and coast on two decades later, cohering as it does from the counterintuitively political "Tension" to the career-making finale "Beer Run." In 2011, the title of Live: The Storyteller pinned down what his performance style had evolved into with tracks called "Bill Elliot Story," about a counterfeit NASCAR driver, and the "classic showbiz success story" "KK Rider Story," where Todd gets a promotion when the bandleader of the title is knocked cold by a beyond-drunk woman on a swing. In short, as with the great live album Johnny Cash at Folsom Prison and not too many others, Snider's live artistry is at least as much verbal as musical, conceptual as virtuosic, spoken as sung. As is 2022's Live: Return of the Storyteller.
Although there are band stories here featuring the ramshackle Hard Working Americans as well as scattered sidemen, one thing that distinguishes Return of the Storyteller from Live: The Storyteller is that its 16 songs and 11 stories are all solo all the time, recorded on what Snider counts as the second tour of his life, which is to say the post-Covid one slated to last until the day he dies—one story celebrates the Hampton Grease Band's Col. Bruce Hampton Ret., who having long sworn he'd expire onstage did so after completing the final song of his 70th birthday concert in 2017 with Todd in attendance. Return of the Storyteller is entirely unaccompanied, devoid even of harmonizers and walk-on casuals. Musically, this is risky, especially since Snider's voice is getting creakier as 55-year-old voices do and he's never claimed whizship on guitar or harmonica either.
So I did my due diligence and A/B-ed maybe half of the 16 songs, almost all of which I'd heard many times before in one manifestation or other. But though there were exceptions—this "Handsome John" is definitely better sung than the 2021 studio one, especially with the John Prine stories that augment the new rendition sharpening our attention—the new versions did tend creakier, and sometimes that proved a deficit. As I performed this experiment, however, I noticed something else—in just about every case, even when my mind wandered because that's how minds are, tiny details of Todd's new version, a version that might never be precisely replicated because that's how anti-virtuosos are, hit me in the gut all over again. The way his voice goes deep on the first "my friend" of "Sail On, My Friend" or the almost self-mocking repetition of "I said" at the top of "The Very Last Time" are just two relatively obvious examples of something you'll hear happen on almost every track if you care about the song and concentrate.
Something similar goes for the stories, too. I wouldn't say many have the entertainment value of "KK Rider Story" or the hallucinogenic "Mushroom Story." Some even start getting tiresome after you've replayed the album too many times in a day just to make sure you're keeping your facts straight. But I note that for me the most noticeable example was "Free Bird," about Todd's fling with the bored, obscenely rich inventor of Crocs, which I found myself dreading slightly on my fifth or sixth pass until the fundamental decency of Todd's narrative voice eased my anxiety and drew me into the now familiar tale and it was on to the psychedelic "Sock Water," in which Todd and some Hard Working Americans in search of a song sip something they're sane enough to know they shouldn't guzzle or maybe even drink. "Pretty soon we were playing bongos and didn't have our shirts on and everything feels important," he recalls—"feels important," perfect, having tripped precisely three times half a century ago, I still remember the feeling-important part. Soon, however, Todd also has the perspective to add: "There's never ever been a mother in the history of the universe that hoped that became of her son." Fuck yeah, I think every time. Only then he goes into the song they found that night: "Just Like Overnight," a keystone of Cash Cabin Sessions, the studio album I just said could almost have been live and was all the better for generating that illusion—but which has a less than comic starkness to it in this performance context, especially given the Alan Greenspan story that isn't really an Alan Greenspan story that for these purposes is redefined as "a song about a guy getting ready to rob another guy."
I'm proud to have written these liner notes without portfolio. But I feel obliged to note that a better writer than I am has a long history of putting his two bucks in. His initials are T.S., and I thank him and his email buddy Diana Hendricks, a few of whose many exchanges with T.S. constitute the actually existing ink-and-paper liner notes of this album, for providing me with an ending. One of their many reprinted exchanges goes like this:
one day on the road, you realize it's not really a cosmic revolution.

and on that day, you have to find a way to say

yes. it. is . . . yes. it. is.
     Maybe he doesn't quite prove that here. But quiet as he prefers to keep it, he comes close.